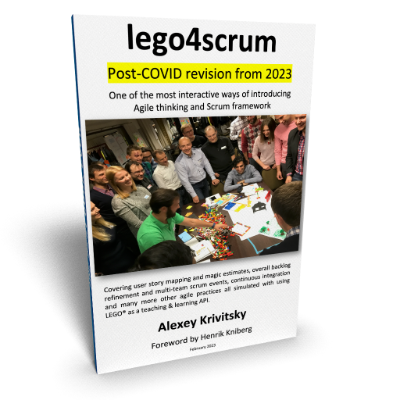 A post-pandemic revision of lego4scrum book is out! Now it is OK to collaborate live together! So let's do it with fun too.
Kindle and Paperback:
PDF and EPUB:
LEANPUB
This book is written for:
Scrum Trainers exploring way of adding more elements of interactivity and gaming into the trainings turning them more to "from the back of the room" kind of things.
Agile Coaches looking for new training and coaching ideas with some elements of serious plays and simulations.
Scrum Masters willing to get ideas how to introduce agile thinking to new teams and newcomers in a fun and easy way.
Professors and Teachers trying to adapt their teaching style to the ever-changing world that is full of games, fun and LEGO.
Anyone else who is in charge of "installing Agile thinking and Scrum in a workspace".
lego4scrum 3.0 incorporates the following popular agile coaching techniques:
user story mapping
magic estimates
overall backlog refinement with multiple teams
joint multi-team scrum meetings
continuous integration and deployment
and more little tips and tricks to make the simulation valuable and fun.